History of Cardiac Rehabilitation in Wairarapa
Late in 1987 the Wairarapa Branch of the Heart Foundation learned about a Cardiac Rehabilitation programme held at Hutt Hospital. This programme was run by Cardiologist Dr. Robert Logan.
A physiotherapist, Charge Nurse Molly Kainuku, Harry Walsh and Len Frances travelled to Hutt Hospital to study the Cardiac Rehabilitation Programme. After a second visit, a pilot Cardiac Rehabilitaion Programme was begun at Masterton Hospital in 1988 led by Molly Kainuku and Len Frances. The sessions were held in the day room of Ward Three of Masterton Hospital and because the staff of Ward Three did their change over in the day room the Rehab programme was unwelcome.
Chairs had to be borrowed from patient rooms in the ward. Harry Walsh was at that time the purchasing officer at Masterton Hospital and he assisted the programme by making cups etc available so attendees could have a cup of tea or coffee. George McKinley came on board and he, with Len Frances assisted the sessions for many years. Len has been involved with the Programme since its inception and has now been involved with it for 20 years.
These days the Rehabilitation programme is held in the Staff Development building at Wairarapa Hospital.
In December 2007, Len Frances retired from the rehab programme. Thankyou Len for your invaluable contribution.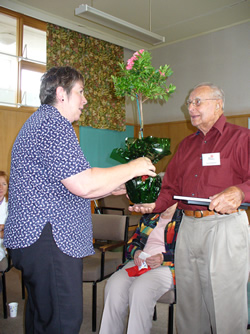 The photograph shows June Roseingrave presenting Len with an azalea on his last day.
Since 2003, Eric Edwards has assisted Len Frances in setting up the room for the programme and Eric will continue where Len left off. Wally Aldridge came on board to help Eric in January 2008.
During 2008 computer based powerpoint presentations began to be used which changed the way sessions were delivered. Following on from this, Wairarapa Branch of the Heart Foundation bought a computer and data projector in March of 2009 for use in the Rehab sessions. Having our own computer has meant that all videos and all presentations were able to be loaded onto the computer making it easier to run the sessions. Now everything is at the Nurses' fingertips.
In June 2009, Wally handed over to Kerry Flannery. Thank you Wally for your help and continuing support and welcome Kerry.
Over the years the Rehab Sessions have been honed and fine tuned to the point where improvements are not obvious, but we keep looking! During 2010 two small changes were made. We bought an urn to keep the morning tea water at boiling point. Tea pots were used and we found that when the last person came for a cuppa that the water was no longer hot enough. With the urn, everyone gets a piping hot cup of tea or coffee.
Lapel labels with the attendee's name were written in the same colour. While this was good, the presenters could not tell at first glance who were patients and who were supporters so we now get patients to write their label in red ink and supporters to write theirs in blue. This also helps our Cardiac Nurse with attendance recording.
Up to the end of 2010 Rehab Sessions were held on Tuesdays. Because of pressure on the meeting rooms we changed to Thursdays commencing in February 2011. This has meant for our presenters and patients a more relaxed atmosphere allowing patients to remain after the session for a chat.
Kerry Flannery left for Australia in March 2011 to get another opinion on her health issues which are ongoing for her, returning to assist in the Rehab sessions in July 2011. Welcome back Kerry!
Owing to personal problems, Eric handed over support for the Rehab sessions to Kerry in September 2011.